Hyperdimension Neptunia Re;Birth2: Sisters Generation
Seit der Ankunft von Magic the Hard und ihren Handlangern, die versuchen, Magiquone wiederzubeleben, ist Chaos in Gamindustri ausgebrochen.
Die vier Göttinnen und Nepgear wurden von Magic the Hard besiegt und die Welt von Raubkopien beherrscht.
Drei Jahre später schaffen es Compa und IF, Nepgear zu befreien. Diese beschließt, dass sie ihre große Schwester unbedingt retten und sich der bösen Organisation entgegenstellen muss. Hierzu muss sie die "Maskottchen" jedes Landes finden.
Hilfe bekommt sie von IF, Compa und den Schwestern der gefangenen Göttinnen – Uni, Rom und Ram, so wie weiteren Heldinnen, die sich ihr anschließen.
Werden die Mädchen es schaffen, ihre großen Schwestern zu befreien und einen Feind zu bezwingen, dem nicht einmal diese gewachsen wurden?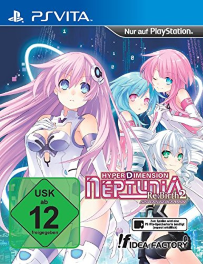 Info
Entwickler: Idea Factory, Compile Heart, Felistella
Plattform: PSVita
Genre: Rollenspiel
Europa
Herausgeber: Idea Factory International
Release: 28. Jänner 2015
USK-Rating: Ab 12
Japan
Originaltitel: Chou Jijigen Game Neptune Re;Birth2 SISTERS GENERATION
Herausgeber: Compile Heart
Release: 20. März 2014
CERO-Rating: C (ab 15)